| | |
| --- | --- |
| | Valladolid |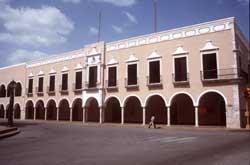 Municipal Palace at Valladolid
Photo Credit: Yucatan State Secretary of Tourism
Half-way between Merida and Cancun, Valladolid sits at the cross-roads of the east-west and north-south highways of the Yucatan Peninsula. The new super highway between Chichen-Itza and Cancun bypasses Valladolid.

Valladolid traces its roots to 1543 when it was founded by Francisco de Montejo - principal settler of most of the Spanish foot-holds in the Yucatan peninsula - on the ruins of the mayan city of Zací.

Cenotes - water-filled sinkholes in the limestone soil - are found nearby.
External links: