| | |
| --- | --- |
| | Rio Lagartos |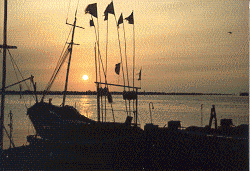 Sunset at Rio Lagartos
Photo Credit: Stuart Wasserman
The area around the village of Rio Lagartos was recently declared a Biosphere Sanctuary. Some sixty miles due north of the city of Valladolid - midpoint between Merida and Cancun - the biosphere reserve hugs the northern coastline of the Yucatan Peninsula.

The area is a birdwatcher's paradise. Thousands upon thousands of pink flamingos return to the area on a yearly basis to nest. Visitors enjoy meandering through swampy estuaries in low-hulled canoes to see the flamingos and other tropical birds. Sometimes, crocodiles will provide surprise and entertainment.

Though small hotels with more modern conveniences are starting to dot the area, it is very rustic. Locals continue to fish in the Caribbean and work the nearby salt mines that have been in operation since pre-Columbian days.
External links: